VERIDIA's Unconventional Prom Dress Giveaway is a contest launched by VERIDIA in 2015 to give the winner a head-to-toe custom prom look by Deena Jakoub, makeup artist Anias Shiba and MADNESS IS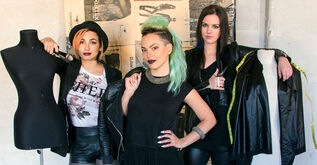 clothing designer Emily Swinson. The winner will also be made ready for her prom by Deena and her fashion and styling team.
To enter, the participant must write, in 500 words or less, a paper on how they or a friend deserve to win and tell your story.
Besides a prom dress, the winner will also receive a new items for her wardrobe from Kersh and Press Fashion, and world-class makeup from MHD Cosmetics to complete the look.