Deena Jakoub is the vocalist for VERIDIA.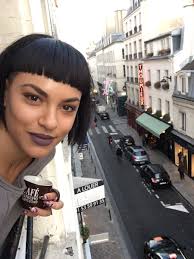 She has said that she has sung in a jazz band in her high school days. She was the vocalist for indie rock band Don't Wake Aislin from 2004-2012 along with VERIDIA guitarist Brandon Brown.
Deena grew up in Texas, but moved to Nashville with her husband after Don't Wake Aislin disbanded, stating "Nashville was calling my name.". She and her husband were featured on the Dave Ramsey Show and VERIDIA's song "We Are The Brave" was played on the show.
Deena is known for her extensive love of chihuahuas. She owns a chihuahua names Ernie and frequently posts pictures of him on her Twitter and Instagram.
Deena began an Etsy shop, Sweet But Deadly Co., in 2016. She sells handmade jewelry, such as leather arm bands, leather rings and necklaces. She wears many of her designs herself.
On the last night of the Evanescence tour, instead of introducing VERIDIA as VERIDIA, Deena introduced VERIDIA as Evanescence. She didn't know until after the show what she'd said.
When Deena was a teenager, she was diagnosed with Addison's disease, a stress-related disorder. She says that a lot of VERIDIA's songs stem from anxiety and trying to find a way out of it. VERIDIA wrote Still Breathing about her anxiety and just being grateful for being alive.
Deena is of Egyptian descent. Her father died in March of 2017, which played a big part in the inspiration and concept of The Beast You Feed.